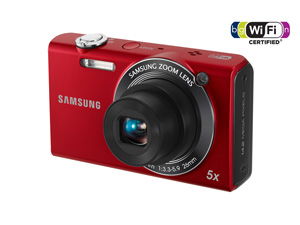 SAMSUNG'S 14MP SH100 WiFi enabled digital camera allows the user to share any special moment or exciting information on the move. Photos can be sent by uploading directly to Facebook, YouTube, Picassa and more, or email directly from the camera.
The SH100 Remote Viewfinder features WiFi live streaming so it is possible to preview images on one's smartphone, like the Samsung Galaxy S. Manage and control the image's zoom, exposure, etc either on the camera or smartphone. All of the images will also embed geo-tagging to record the location.
The SH100 automatically downloads to one's PC via the Wireless Auto Backup feature and can turn itself off after to save energy. Its Smart Touch interface uses a touchscreen with 'drag and scroll' functionality.
Two photos can be merged into one with the Magic Frame feature. It is also possible to capture video or capture the perfect shot by selecting from 17 different photo and four different movie modes.
This camera can also detect and adjust the lighting on up to nine different faces at one time, automatically shooting the subjects when they laugh or smile and stopping a shot from happening if any eyes are closed.