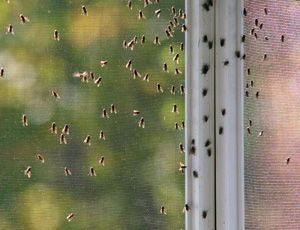 IT is unlikely that anyone reading this can fail to have noticed that we have a horrendous and very unusual fly problem this year in the Levante Almeriense area.
A small number of people have been trying to resolve this problem for the last two or three weeks, with limited success because we really need the help of the public at large if we are not to continue to endure it for several more weeks.
The level of infestation is a threat to public health and unfortunately also to the tourist economy of the area – no one wants the holidaymakers who are now here in their thousands to have a miserable holiday and more selfishly we don't want them going back to their own countries and warning all their friends that Almería is full of flies because normally this is simply not the case.
So why this year?
Firstly, flies are not born on the wing.  They need specific, very unpleasant conditions for the larvae to develop and hatch. That means rotting organic matter:  poorly managed waste from sewage treatment plants, manure or the remnants of harvested vegetables not quickly turned in, decaying carcasses, broken sewerage pipes, illegally dumped septic tank waste,  are all equally desirable to the fly. 
Certain weather conditions – hot and humid – make all these much more effective breeding grounds.
It is difficult to know why this year is so much worse than we have ever known.  Slightly higher humidity may have been a factor but cannot possibly account for the level of infestation we have seen.  It is more likely that economic pressures may have tempted people not to take the proper measures in control and treatment of waste of all sorts.
Whatever the reason, it is clear that this year something has gone very badly wrong with the management of organic waste. It really is difficult to comprehend why the spreading of organic waste on the land is happening at this time of year when the conditions for fly development are at their best and the development period from larva to fly is at its shortest.
The second important fact is that there is a limit to how far a fly can fly, even in windy conditions. Studies show that: 
the main reason for travel is over-population at the original breeding site,
mostly they do not travel more than 5km and
most will not go further than 1.5km.
Of course once a new breeding site has been established there is a new radius of travel.  This may explain why there are pockets of infestation all over the area, assuming (as is currently alleged) the original local source is improperly managed solids from the Vera sewage treatment plant, dumped in more than one location and not properly turned in.
At this point the waste would be the responsibility of the person acquiring it and not the plant.  There is no suggestion as far as we know that the Mojácar and Vera plants have not followed good practice during the treatment of sewage however it would be interesting to know if  they have been using insecticides during the process before the solids are removed.
By Jane Breay