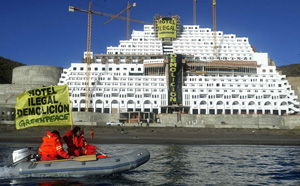 GREENPEACE has requested that the new mayor of Carboneras, Salvador Hernandez, rectify the 'errors' of his predecessor and declare the land where the Azata del Sol Hotel is located unsuitable for development.
Work stopped on the hotel in the Cabo de Gata-Nijar Park some years ago during the four-term reign of socialist mayor Cristobal Fernandez. Several court cases are pending against the construction.
In 2010, the Andalucian Supreme court of Justice agreed to ban Fernandez from carrying out any further developments in El Algarrobico area, as the decision of what its protected status is remains to be taken.
Greenpeace wants the area to receive the grants and protection it deserves and to be a place for rural tourism. Hernandez explained that the decision wasn't in the hands of the town hall, which would have to abide by whatever is decided in court in the cases against the hotel.
He also pointed out that no-one knows yet whether the hotel is legal, but that the whole town is suffering from it, as it gives no work, attracts no tourists and gives a poor appearance of the area. "We are in favour of anything which creates employment here" he said, "but as long as it is within the law".
Photo credit: greenpeace.org