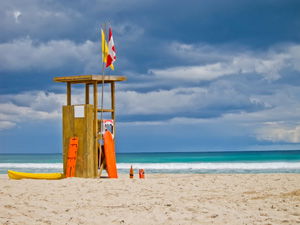 THREE people died on Mallorca beaches in June and 14 drowned. These figures are 'virtually the same' as last year, according to the Balearic Government.
There are 343 lifesavers on Balearic beaches during the summer season, but care is still advisable. When the red flag is flying it is completely prohibited to swim. The yellow flag signals to be careful and the green flag means it is safe to go in the water. An orange flag means that a lifeguard is not on the beach.
People should not swim in areas were boats travel, rather sticking within the buoy's that mark swimmers boundries. Use sunscreen and sunglasses and avoid long exposure to the sun. Children, especially infants, should use hats, stay in the shade and drink plenty of water.
While it is not wise to swim right after eating, those that do should stay close to the shore and if they begin to experience cramps should get out of the water immediately.
Other recommendations include to beware of rocky areas and to not dive headfirst into the water.
Divers are asked to fill out a form on the website which specifies the location and time of the dive. Divers are advised to never dive alone, to check their equipment and to use a dive buoy to mark their presence.
Emergency services website – http://112ib.caib.es – contains information on how to be safe.
By Nicole Hallett