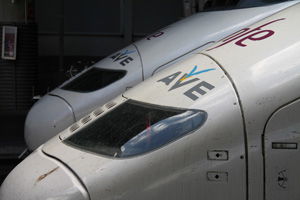 THE economic crisis was affecting the AVE high speed system, admitted Spain's rail network, Renfe.
Crisis-hit Portugal has shelved plans for the Lisbon-Madrid link and nearer home, the direct AVE service between Albacete and Toledo ceased operating on July 1. With three trains a day, passengers bound for Toledo could board in Albacete or Cuenca and alight without changing in Madrid.  
Unfortunately, with only an average of nine passengers a day, this was costing Renfe around €18,000 a day. The link did not cost anything in terms of infrastructure, as it used stretches of track laid down for the Madrid and Sevilla AVES. "But it hurts to see an empty train," said Renfe executive, Enrique Urkijo, who explained that passengers could still take an AVE in Albacete or Toledo, but would need to change in Madrid.
Not all AVE lines are money-losers.  The link between Madrid and Toledo is used daily by 4,500 people and the line to Valencia sees 6,500 passengers each day.  Most consistent money-makers were the Barcelona AVE, taken by 5.3 million travellers last year and Sevilla's, with 3.06 million in 2009.
Thirty per cent of Europe's high-speed track is in Spain and its 2,056 kilometres are outstripped only by China with 4,576 and Japan with 2,664.
More links are planned but are sometimes the result of political arm-twisting. This was the case with Cantabria, whose ex-president Miguel Angel Revilla warned the government when it needed his support: "No AVE, no pact." AVEs bring employment and improve communications, but each kilometre costs between €12 million and €30 million to build and €100,000 per year to maintain.
Some could be as unprofitable as the Albacete to Toledo link of whose nine passengers a day a Renfe source remarked "it would have been cheaper to treat them all to a taxi…"