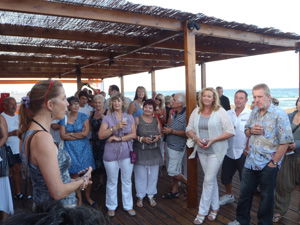 FRIDAY night saw the Opening Party of this year's Tapas Trail held at Hola-Ola Beach Bar on the playa. All 23 establishments took part showing off their offerings in an attempt to be 2011 Tapa Top Dog and I can say with hand on heart that the bar has most definitely been raised since last year.
Organised by ACEM (Mojacar Business Association) the contestants this year are Restaurante Casa Minguito, Cafe/Bar Habenaro, Cafe/Bar Los Cuatro, La Cava, Hola-Ola, Neptuno Beach Club, Tapas Lokas, Crème de la Crème (Delicatessen), Mana de Cielo, Restaurante La Bola, La Peseta, BBme (Chiringuito), Lola's (Chiringuito), Chiringuito el Patio 2000, Chiringuito el Cid, Aku Aku (Chiringuito), Restaurante Viva!, Valery's, Ankara Beach Bar, Restaurante Casa Egea, Chiringuito Tito's, Cafe Bar/Restaurante Arriba and Cerveceria Marazul.
Tapas passports can be collected from all the venues as well as the offices of Spectrum FM on the 2nd floor of The Parque Comercial in Mojacar. You get your passport stamped at each of the venues you visit and vote for your favourite tapa and waiter.
Anyone who visits more than 10 places during the event, which runs until July 17, can hand their passports in and there will be a draw in which the winner will win a weekend away at the Parador Hotel in Mojacar.
As part of the prestigious judging panel this year together with members of the Almeria tourist board and the Almeria de tapas Facebook group we will most certainly have our work cut out as the standard this year is so high.
Listen to The Almeria Happy Hour on Spectrum 92.6FM each weekday from 11am for daily interviews with contestants and most of all enjoy this year's event.
With the quality of food being so good, I'm sure that you will. For a complete set of photos on the opening party please visit Spectrum Almeria on Facebook.
By Richard Shanley