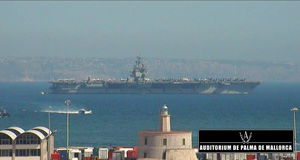 IT is now possible to see the live feed of Palma bay and harbour taken from the top of the Auditorium at www.auditoriumpalma.com The Pan/Tilt/Zoom WebCam can be controlled and it is possible to choose any of the nine camera positions.
It streams at a maximum of 25 frames per second and is even visible on mobile devices including iPhone, iPad and Android phones and tablets. The WebCam takes snapshots every hour and stores it in an archive so it is possible to see what the weather has been like the past few days, weeks or months.
From here it is possible to view the cruise-ships as well as the famous Cathedral. The website can be viewed in English, German, Spanish and Catalan.