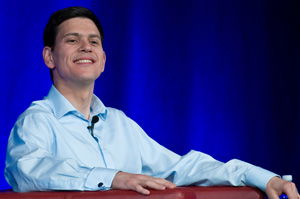 DAVID MILLIBAND turned down the EU Foreign Affairs plum because he expected to secure the Labour leadership.  It went instead to brother Ed who is such a monumentally poor leader that David plots a comeback and the knives are out. Sibling rivalry is an old story, however, and substituting Cain and Abel with Ed and David merely updates it for the umpteenth time.
First things first
ONLY the US, Britain, France, Greece and Albania out of Nato's 28 members allocate 2 per cent of their GDP to defence, as stipulated by the organisation.  Given the parlous state of the Greek economy, now given the world's lowest credit rating by Poor & Little, it can only be hoped that Greece's government settles its more peaceable debts before honouring this one. 
Keeping one's distance
AS Syria boils over, Yemen seethes and Tunisia and Egypt still simmer on the back burner, Britain's Navy chief warned that the fleet could not maintain its present scale of operations off Libya unless ministers made some challenging decisions.  Regardless of what that says about Britain's emaciated military muscle, this could be the moment for the West to admit that it can encourage but no longer wade in throwing punches every time rebels attempt to overthrow tyrannical governments and regimes.