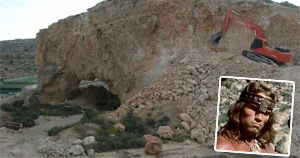 WORK has started to demolish the Cueva de San Roque in Almeria. It is known locally as 'Conan's cave', as it was where the Arnold Schwarzenegger film 'Conan the Barbarian' was shot in 1982, as well as scenes from the first Indiana Jones film.
The promoter of La Rambla Shopping Centre, Jose Luis Carrion, has said that the cave is collapsing due to the soil shifting, and that he doesn't want it to be his fault if anyone gets hurt. In 2006, he requested a geological study which revealed there were cracks and instability.
Last year, who large rocks fell and ended up just metres from the petrol station on the access to the motorway, and permission to take action was requested and granted by the city hall. Carrion claims that just days before the Lorca earthquake he was informed by staff at the petrol station that there were further falling rocks.
He also pointed out that the cave is not natural and was created during the Civil War. For years it was used by drug addicts until it was covered over. "No-one has taken any interest in it at all until it was reported that it was going to be demolished" he said.