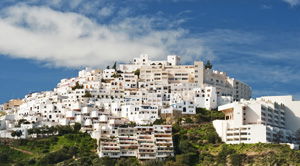 THIS time last week, Rosa Maria Cano was preparing for another term in office as Mayor of Mojacar. But as mayors in most Spanish towns were being sworn in on Sunday, Mojacar's political future was left in limbo. Town Hall Secretary, Maria del Mar Martinez, revealed the swearing in ceremony had been cancelled due to the allegedly anomalies detected during the municipal elections of May 22 in Mojacar.
Expat Jessica Simpson, who won a seat in the elections with Mojacar Positiva Se Mueve said that thanks to their constant joint effort and work with lawyers and other affected parties the Sunday's ceremony was held back. The main complaint she said "is due to some very important errors that were made on one of the voting tables, this is the conflict which will hopefully make a big change in the final results."
The Contentious-Administrative branch of the Andalucian Supreme Court of Justice still has to rule on the case presented to them, which is mainly related to questions over the legitimacy of 500 postal votes received (about 18 per cent of the total). Most of these were for the Partido Popular (PP) giving the party the required majority with a total of 1,106 votes.
Other local parties requested that Almeria Public Prosecution investigate any indication of foul play in the electoral process.
Meanwhile, PSOE leader, Manuel Zamora, said irregularities had been detected on the municipal census, with "suspicious registrations from the homes of PP candidates and an extremely high percentage of postal voting". He also said that 100 per cent of the Romanian community in the town voted by post and that envelopes have been found with similar handwriting and many of them sent from Garrucha.
Prior to the election, in April, Zamora had requested that the Electoral Commission for the area keep an eye on votes arriving by post.