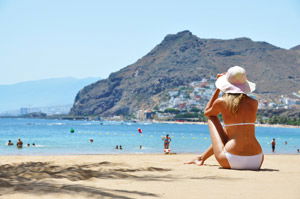 AS Spain continues to drag itself out of recession, this year may see the biggest rise in tourists in five years, research by Euromonitor International shows. In the 12 months to April 2011, 53.7 million tourists visited Spain, 4.16 per cent more than the same period the year before.
The number of tourists to Spain is expected to increase to 55.3 million in 2011, according to offical estimates.
A government report suggests this optimism is based on three reasons: cancellations to North Africa due to political unrest; rising fuel costs making long haul flights more expensive; and the economic recovery of European countries like Germany, Holland, Italy, France and those of Scandinavia.
Spanish hotels prices have dropped by 30 per cent since its 2008 peak, National Statistics Office data shows.
Hotels have further reduced their prices this summer in the hope to cash-in on unrest in countries such as Egypt or Tunisia, Bloomberg.com reports.
Fleeing tourists and cancelled bookings in late January and during February cost the Egyptian tourist industry an estimated US $1 billion (€683 million), Egyptian state statistics office, CAPMAS, figures show.
In the first four months of 2011, hotel occupancy in northern Africa fell 46 per cent, according to STR Global.
Ignacio Vasallo, the director of the Spanish Tourist Office for Britain and Ireland says for the first time in four years package tours to Spain are cheaper than those of Turkey.
And holiday company data supports the theory that Spain is set for a bumper year.
As Europe's largest tour operator Tui Travel increased package holidays to Spain by 10 per cent, Thomas Cook reports a May booking boost from west and east Europe and northern Europe to the Balearics (+45%) and Canaries Islands (+37%) respectively.
The number of airplane seats to Spain expected to be available this summer is of 56.1 million, 8.2 per cent more than in 2010, according to AENA.
Meanwhile, the Spanish Tourism Ministry also expects a boost in Polish and Russian tourists, with a marked increase in city and shopping holidays.
Bookings to Spain from Poland this summer have seen an 86 per cent year-on-year increase.
And Russian tourists spent 92 per cent more in April 2011, than the same month last year, Global Blue figures show.
The number of available airline seats between Spain and Russia has more than doubled this summer to more than 1 million.
By John Jackson