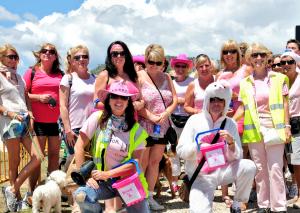 Over 100 people walked the 5 kilometre Walk For Life route last Sunday which began and ended at the Mallorca Cricket Club grounds.This was the second year for the event which was organised by Laura Penn and Linda Ledwidge from English Radio Mallorca.
It was originally inspired by Jenny Coville (who died from pancreatic cancer last year) as a fundraiser for AECC (Association Espana Contra Cancer). Last year the event raised over €2,000 and this year it is on course to top €4,200.
A Weightwatchers group raised over €2,000 on their own, whilst Dora and the Coffee Mates raised €500.
Once the walk had been completed the fun began at the Cricket Ground with entertainment for children and adults alike. Local entertainers including Nicky Stixx, Izzy Newman, Vinnie Scott and The Durty Nelly Band (Danny, Adrian and Dave) all gave their time for free as well. 'We're looking forward to next year's event already!' said Councillor Kate Mentink who officially started the event.
The presentation will be made to the AECC today (Thursday).
Photo credited to www.luxuryphoto.christopheboulair.com