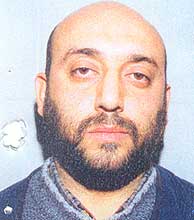 ABU DAHDAH, Al Qaeda's Spanish chief, allegedly belonged to an extremist, highly secret, jihadist sect. A 44-year-old Syrian with Spanish nationality, Abu Dahdah – real name Imad Eddin Barakat Yarkas – was imprisoned in Spain for 12 years but is due for release in 2012.
His name appears on several US State Department files accessed by the Spanish national daily, El Pais.
Yarkas was a member of Takfir Wal Hijra – it means Anathema and Exile – claimed Abu Anas, a Jordanian prisoner who once worked in London for the fanatic cleric, Abu Qatada.
Members of the faction, which originated in Egypt in 1969, are allowed to wear western clothes, drink and smoke.
They can also eat pork, sell drugs and even steal in order to achieve their goal of blending in with those they regard as the enemy.
Other supposed members of Takfir Wal Hijra were Mohammed Atta, who led the World Trade Centre bombing, and others amongst the 9/11 terrorists.
Abu Qatada asked Yarkas to give money to another member of the Takfir Wal Hijra, the iman of the Al Rahmed mosque in Alicante, according to Abu Anas in a statement dated May 15, 2005.
Like Abu Anas, Yarkas had close links to the now imprisoned Abu Qatada and he, together with his Spanish wife Marisa and their children, always stayed with him whenever they visited London.
Yarkas has in the past maintained that the terrorists responsible for bombing four Madrid computer trains and killing 191 people, were Takfiris.
But until now, at least, no-one suspected that Abu Dahdah himself could be another.