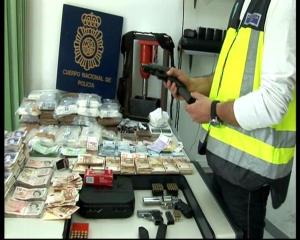 SPAIN has more mafia members than any other country except Italy, police say. And it is from Spain that the Neapolitan Camorra, the Calabrian  N'drangueta and the Sicilian Cosa Nostra control the distribution of Colombian and Venezuelan cocaine in Italy and Europe.
In the last 10 years the National Police and Guardia Civil have arrested around 100 people belonging to Italian mafias.
Of these, 34 were capos or high-ranking members and at least 24 leading 'families' were identified.
"Germany is where the Italian mafias launder their money and is also a pick-up point for Eastern European arms' sales.  Spain is the operating base for drugs arriving from South America," explained a Europol liaison officer.
Spain's climate, its cultural and language similarities and, until recently, its reputation as a construction paradise, have converted Spain into a primary bolt hole for Italian capos.
They are also attracted by Spain's legal system which does not classify "mafia association" as a crime. Mafiosos principally like to install themselves in Madrid, Cataluña, Levante and, above all, the Costa del Sol (which they allegedly refer to as Costa Nostra).
"The Camorra, N'drangueta and Cosa Nostra have somewhere between 250 and 300 big bosses.  Possibly 70 per cent of the members of the first two organisations are hiding in this country.
"The Camorra alone has around 80 families in Italy, and its tentacles reach into Spain," said the same sources, which considered Cosa Nostra to be less active here.
Mafia money is invested in hotels, restaurants, discotheques and property, despite the drop in the building sector.
"They launder money through these apparently legitimate concerns.  But their real business remains cocaine and hashish," Guardia Civil sources maintained.