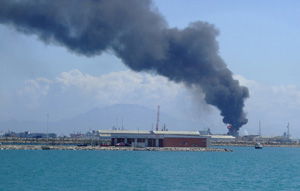 An explosion in Gibraltar port has injured two people this afternoon. The incident happened at the main fuel depot close to where a cruise ship was moored. One of the injured is said to be in a serious condition while the other suffered minor burns. Emergency services are at the scene.
A Police spokesman told AFP news agency, that the lid of the fuel tank was blown clean off.
Southampton based cruise liner Independance of the Seas had to move away from the port area back out into the sea as a second explosion has not been ruled out.
Picture Credit: Chris Hicks