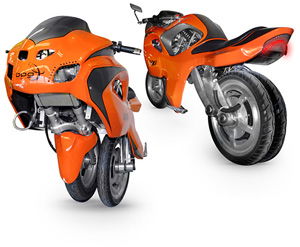 FOR jams that even two wheels cannot navigate, the Uno III Streetbike (U3) can. Like a Transformer, it can convert itself with the push of a button from a conventional motorbike to a unicycle-style machine. When in unicycle mode it balances on two parallel rear wheels, the front retracting between them which allow it to manoeuvre through and into tight spaces, including a lift.
This vehicle is not for speed demons as it can only travel up to 56 kilometres per hour on a single three to four hour charge.
It was developed from an initial idea four years ago by then 17-year-old Canadian inventor Benjamin Gulak as a solution to China's smog-filled mega-cities while on a business trip to Asia with his father.
The original Uno I prototype was built for a year 12 science project in 2008, while the Uno III was produced by his own motor design company called BPG Motors based in Cambridge, Massachusetts (USA) and retails at $7,500 (€5,269).
The aim is to 'revolutionise the morning commute'.