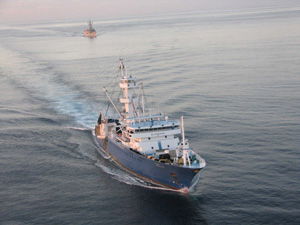 THE government paid Somali pirates $11 million to free a Spanish fishing boat in 2009. Madrid has repeatedly denied handing over ransom for the Spanish-registered Alakrana and its crew but leaked Defence ministry documents now demonstrate that the government was responsible for delivering payment.
The money, packed in two metal cylinders, was transported by a light civilian aircraft which had been chartered in Kenya. It was dropped into the sea and picked up at a pre-arranged spot by the pirates, according to ABC newspaper.
Despite ministers' repeated denials, the documents confirmed the government's involvement, claimed ABC. The leaks also gave details of what was termed the "problem" of the two pirates who were captured earlier and taken to Spain.
Because it was impossible to put all the money into one cylinder, a first payment was dropped at 4am and a second at 11am, with the release coming almost immediately afterwards on November 17.
The ransom cited by the ministry of Defence documents was considerably higher than the $3.5 million quoted last November and a further $1 million was initially lost by CNI intelligence agents tricked into paying a phoney go-between.
Meanwhile, four Alakrana crew members lodged an appeal on Monday against the 439-year sentences handed out to Cabdullahi Cabduwily and Raageggesey Hassan Aji.
Gaizka Iturbe, Victor Bilbao, Andoni Gotxi and Francisco Valadez want the two pirates, who were captured and later tried by the Madrid national high court to stand trial for terrorism, assault and torture.
They are also calling for €200,000 each in compensation for physical and psychological suffering during their 47 days of captivity.