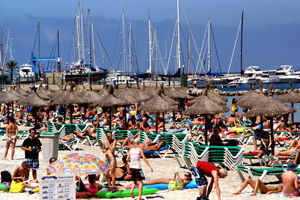 AFTER Germany, the largest number of tourists to the Balearic Islands this year is set to come from the United Kingdom. About half-a-million more British tourists – 3.2 million – are set to arrive on the islands this year, compared to last, according to the director of the Spanish Tourist Office in London, Ignacio Vasallo.
"This is quite a feat considering that, unlike Germany, there are fewer British citizens traveling this year compared to last due to economic doubts and welfare cuts in the UK", explained Vassallo.
It is estimated that the islands market share of tourists will be on average between 30 and 33 per cent.
In the past two weeks, the market share reached 35 per cent, coinciding with the terrorist attack in Morocco, although "these levels will not be maintained" according to Vassallo.
He also denied that the islands are benefiting from the instability in the Arab countries.
"The diversion of tourists for that reason ranges between 15,000 and 20,000 people," he said.
This success is "purely economically motivated," he believes.
"First by price reduction in the hotel industry and secondly David Cameron's exit tax increase and finally fuel supplements," he explained.
Departure tax to Spain is only £12 (€13.67) compared to £60 (€68.37) for Egypt and £85 (€96.86) to travel to America and Australia.
Fuel supplements to Spain are just £9 (€10.25) while for Egypt they are £20 (€22.79).
Furthermore, "for the first time, tour packages to Spain are cheaper than those for Turkey," added Vasallo.
By Nicole Hallett