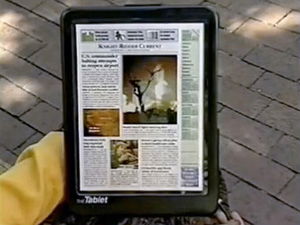 WHILE many see the iPad or Kindle design as a 21st Century 'revolution', a tablet computer called 'The Tablet' that looks very similar was made 17-years ago. The 1994 promo video was released by Knight-Ridder and aimed to "take today's newspaper into the electronic age" and boasted that users would not need a manual to use it.
Their prediction that "all forms of media that we know today will be transformed in the next 10 to 15 years," has certainly come true.
"Tablets will be a whole new class of computer, weigh less than 2lbs and be totally portable with a clarity of screen display comparable to ink on paper as well as the ability to blend text, video, audio and graphics all together," was the predication.
The Tablet was created by a team of researchers, designers and journalists, but was never released.