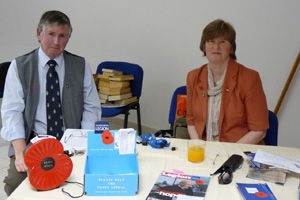 Members of the Mojacar Branch of the Royal British Legion met Christopher Wyatt at last weeks meeting who is Chairman of District North which stretches from the French boarder to Roquetas de Mar and contains 20 branches. He told the assembled members about the good works of the RBL and how it is helping the existing members of the armed forces who have been injured or have required help for other reasons.
He was accompanied by his wife, Peggy Wyatt , who holds a number of roles including PR for District North . Peggy also gave an interesting talk including a report on the 90th Annirversary concert in Alicante held last month.
The meeting also had an officer from the Spanish Legion , Major Juan Manuel Martel, who gave a talk about the history of the Spanish Legion which holds the position of being one of the Division's of the Spanish army which is most often in the front line .
You do not need to have served in the armed forces to be a member of the Mojacar RBL which meets twice a month in the Artizan centre just below the Pueblo, and for more information please contact the Secretary on 950 091 167 or [email protected] Those wishing to contact our welfare team should phone 664 042 197
Our next meeting is on Thursday 19Th May.