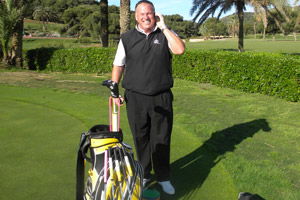 Last Saturday saw The Glenn Billington Short Game Roadshow sponsored by Spectrum FM came to La Manga Golf Resort for a day of tuition in putting and chipping, probably the two most important aspects of the game. As Sam Snead once said "If I could see my time again I would only practise my driving and from 100 yards in to the green."
These roadshows will become a regular feature in the coming months at golf courses in Almeria and Murcia. Listen to the Golf Show at every Saturday morning on Spectrum FM with myself and Glenn for more information on these events. You can tune in on 106.3 in Costa Calida, 92.6 in Almeria North, 104.4 in Almeria South or anywhere in the world at www.costaalmeria.spectrumfm.net
Glenn is based at The Academy of Golf at Hacienda De Alamo where people can take coaching on a one to one basis but the roadshow are a great way to get players from other courses involved.
The day started with a putting clinic. Glenn's approach to putting is simple but extremely effective. After completely changing my stance, grip and putter alignment his thought provoking comments made so much sense. Although alien to me for the first 15 minutes the outcome was amazing. Much straighter putts and much more control.
The other 8 guests were equally impressed with his work. As Glenn said " If you can putt with confidence you will save a minimum of three shots per round."
After a short break to take stock the chipping clinic commenced which was run by advanced PGA golf professional Adrian Rudge ably assisted by Craig Hewitt. Again a simple philosophy was imparted of getting the club head to do the work on a shallow plane as opposed to your game being hampered by the one above your neck.
Then the important issue of landing zones was discussed and practised. Once again by the end of the session we were all chipping more confidently, even the low handicappers with a much clearer knowledge of what is requires around the green.
An excellent days coaching run by consummate professionals with an unsurpassed knowledge of the game. Highly recommended to golfers of all standards and should certainly improve my scores. The first Spectrum FM golf society day will take place this Wednesday at Hacienda De Alamo.
Next month we will be playing on the La Manga Club South course at an incredibly discounted rate of €58 saving yourself over €70 on the regular price to play this world class course. If you would like to join the society free of charge and play great new courses at the best prices please email [email protected] or call Glenn Billington direct on 664 319 382
By Richard Shanley