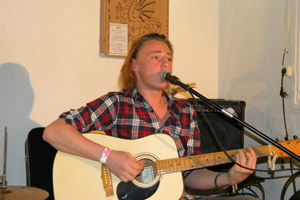 This Saturday 9th April sees the music event of the year in Mojacar with the Spectrum FM 'Gig A Crawl' in aid of PAWS. As the name suggests it is a cross between a pub crawl and a concert. Ashley Catchart the prodigious new talent on Mojacar playa when hearing last month on Spectrum FM of the current plight of PAWS immediately offered his services for free and an idea was born.
Both myself and Spectrum FM have been heavily involved in the annual PAWS sponsored dog walk so we decided to copy that successful format. Ashley will play a short gig in 8 bars on Mojacar Playa culminating with a finale at The Irish Rover and we will have volunteers following with buckets and also walking PAWS dogs as they collect money.
This will be a great fun day out for all ages and if you have never seen 17 year old (not a misprint) Ashley play then come along to any of the venues, throw some money into the buckets and enjoy the most sensational musician currently on the Almeria scene. All of the bars taking part have agreed a €50 donation to PAWS to get the ball rolling so please come along and dig deep to help save Mojacar's longest serving animal charity whilst enjoying Ashley in all his glory.
He can be seen at the following times (approx) in the bars.
12

Bar la Finca

Alvaron Cafe Bar

Bar Yvis

El Trebol (next to the PAWS Shop)

4.30pm Truffi Bar

5.30pm El Cid

Blue Lagoon

8.30pm Irish Rover.
If you would like to volunteer and help walk a dog, carry a bucket and collect money please call Jessica from Spectrum FM on 678 332 815.
By Richard Shanley