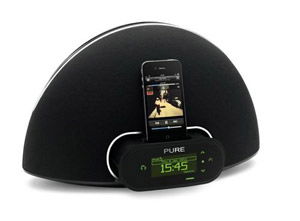 THE Pure Contour is more than just an iPod dock. Not only does its gorgeous curvy shape make it stand out from the crowd, but it comes with built-in internet, DAB and FM radio as well as music streaming from PCs and Macs on one's home network. Touch-sensitive power, volume and mute buttons can be found by tracing the apex of the curve.
A 128×64-pixel LCD display is on the front surrounded by luminous green touch-sensitive buttons for controlling menus up-close.
Press the panel and a retractable iPod(iPhone dock glides forward.
At the rear there is a 3.5mm minijack input for non-Apple MP3 players and headphone out put as well as a composite video output and a joint componenet/S-video output, which can both be used to watch iPod videos on the TV.