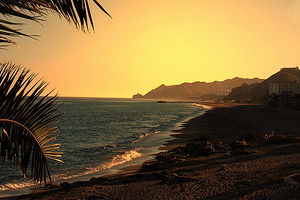 ALMERIA'S 231 kilometres of coastline, which still includes large expanses of untouched land, have always been a tourist draw although this asset has also been its environmental downfall. Barely 11 kilometres of coast were developed in 1957 compared to the present 33 per cent – approximately 75 kilometres – plus 52 per cent of beach-front.
Coastline development has now reached 100 per cent in Vera and 56 per cent in Mojacar.
Almeria was relatively untouched by the 60s building boom which made Torremolinos both famous and notorious but the 70s brought development which outstripped Alicante's and hotel accommodation increased from 9,138 hotel beds to 17,440 in the space of nine years.
Environmental impact was still taken into consideration at this time, with 215,000 hectares of officially protected land, but the 90s heralded a return to unchecked development.
El Ejido now has an urbanisation adjoining Punta Entinas, regarded as one of the Almeria coastline's most ecologically-interesting locations.
In Roquetas de Mar – allegedly Europe's fastest-growing municipality – and Aguadulce, 14-storey tower blocks stand practically at the water's edge.
This level of building, plus its inevitable infrastructure requirements, brought irreversible changes to the landscape, say environmentalists, turning Almeria into Andalucia's most "coastally distressed" province.