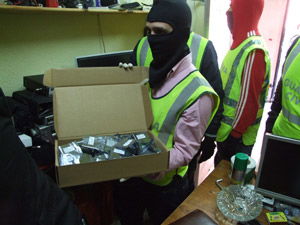 JOSE JESUS S.R. was arrested in Pampanico (El Ejido) last week after allegedly swindling electrical components worth €40,000 from a business in Alcala la Real (Jaen). Police searching the 33-year-old's home located all of the illicitly-obtained objects which have now been returned to the Jaen suppliers.
On at least four occasions Jose Jesus S.R. obtained goods after making internet orders to which he attached a copy of a bank transfer for the required amount. He would then cancel the transfer, but used the original bank slip as proof of payment.
The owners of the Jaen company were unaware of Jose Jesus S.R's scam until they noticed that the amounts due from his transfers did not appear on their bank statements.
A formal complaint was lodged with the Alcala la Real Guardia Civil and Jose Jesus S.R now awaits questioning by the examining judge at El Ejido's Number Three court on fraud charges.