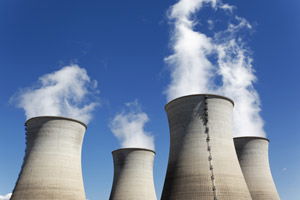 NOTWITHSTANDING the Three Mile Island and Chernobyl scares of the past, nuclear power was the one remaining non-contaminating option for an energy-ravenous world. But the Japanese tsunami has demonstrated that where nuclear power is concerned, and despite every safeguard, anything that can go wrong will eventually go wrong.
Despite widespread hostility from the anti-Greens, Japan's blown reactors demonstrate that alternative energy sources are the only viable alternative.
Commodity trading
DESCRIBING slaughter in Zaire or Rwanda as genocide is no exaggeration and ignoring it is cowardly. Meanwhile, Muammar Gaddafi is a bloodthirsty tyrant, but the West's hurry to see the back of Libya's president and its desire to try him for genocide at the International Criminal Court is both transparent and hypocritical. But there is, of course, more demand for oil and gas than blood diamonds.
Lessons to be learnt
WASHINGTON wants emerging Arab democracies like Egypt and Tunisia to emulate Latin America, blithely forgetting how often it interfered there in the past. Latin American governments routinely ignored concepts of democracy and equality but were still heirs to them: how long will it take Egypt and Tunisia to acquire enough political maturity to elect – and accept – women presidents as Argentina and Chile have done?