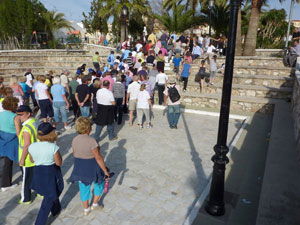 IT is that time of year again for us all to dust off our walking or running shoes and head down to Sophia's Wellness Centre in Arboleas to get our sponsor forms and register for this year's Walk For Life, to be held on Wednesday April 20. The walk will start at and will go from The Town Hall in Arboleas, it will be a 6.5km route, with water stations in allocated spots, that will finish once again in the square outside the town hall, where both partakers and spectators will be able to enjoy line dancing, salsa dancers, rock n roll and live music late into the night.
The organisers at Sophia's last year managed to raise a whopping €5,200, and this year are looking to top that with a target of €8,000.
The money will be shared 50-50 between the doctors surgery in the local area for new machinery and anybody affected by cancer and their carers.
It is certainly a worth while activity and a great chance to have fun for all the family, get some exercise and raise some well needed money.
Fancy dress is optional, and last year quite a few people brought there dogs along also, so feel free to do so this year, whether you run, walk, cycle or hop skip and a jump the route as long as your raising money for the charity and having a fun time then the organisers at Sophia's will be pleased to see you.
We also need your help as Sophias are looking for a celebrity to cut the ribbon to get the event started, do you know of somebody?
If you can help or for more info on The Walk for Life 2011 please call 950449451 or pop in to Sophia's in the main street in Arboleas.