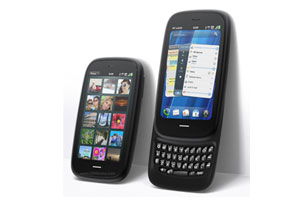 HP has announced two new smartphones in February – the HP Pre 3 and the HP Veer – as well as a Touchpad. It rocks a 9.7-inch screen with Qualcom Snapdragon 1.4GHz Processor, so is lightening fast, which it needs to be seeing as it is touted as a "true visualisation of your workspace."
It was designed to be the "most worker-friendly tablet ever."
There is a 1.3MP front-facing camera for video calls and boasts Touchstone charging tech so it can be juiced up without plugging it in. The Pre 3 is central to the PC giant's hopes of making it big in the smartphone arena.
Pre 3 can be used in conjunction with the new Touchpad thanks to Touchstone technology. Web addresses can be shared and Pre3 calls can be answered through the tablet.
In addition to the 3.6-inch touch screen, with 800×480 resolution, it has a slide-out portrait keyboard. It has a 5MP camera with 720p HD video.
There is the option for an 8GB or 16GB storage, depending on the model, and 512MB RAM and is powered by a 1.4GHz Qualcomm processor.
The Veer is a rival to the Sony Ericsson Xperia X10 Mini. While a trade-off on specs and skills is often made for smaller smartphones, it seems that the Veer has sacrificed less.
Rocking a tiny 2.57-inch screen as well as a slide-out keyboard at the bottom, it still packs the same webOS 2.2. as the Pre 3, as well as Flash 10.1, GPS, Wi-Fi, and a Scorpion 800MHz Qualcomm chip.
HP Synergy delivers Yahoo mail, Exchange, Facebook and LinkedIn messages after just one sign in.
Like the Pre 3 it also acts as a mobile hotspot.
It boasts 8GB of storage, a 5MP camera and Bluetooth 2.1.
Release dates are yet to be announced, but is expected before the summer.