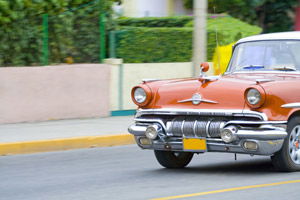 ONE of the best things about Mallorca's Mediterranean winter is the fact that you can enjoy so many outdoor activities in a mild and generally sunny climate. In 2011 the island has plenty of suggestions for the winter visitor plus some new activities from classic car tours to rugby, dancing, golf and ballooning.
New Classic Car Tours
The Mallorca Driving Association, which has been organising the Isla de Mallorca Classic Car Rally since 2005, will now launch Classic Car Excursions. Visitors can experience driving around the island in true style in one of 12 classic cars.
If several visitors participate in the excursion then they can swop cars throughout the day and vary their classic car experience. Furthermore, enjoying driving in Mallorca can be enhanced by adding a helicopter flight or boat excursion. Information: www.mallorcadriving.com
Rally Clasico Isla Mallorca 2011, March 10th-12th, 2011.
Now in its seventh year, this event marks the first dry season rally in the European calendar. Over 80 classic cars will participate from all over Europe with some prestigious classic car drivers including Michael Stoschek, winner of the European championship and John Sheldon winner of the Tour de España.
The 14 stages of the rally will take the competitors through the island's stunning and challenging mountain and coastal scenery. Information and registration: www.rallyislamallorca.com
New Rugby Pitch opens in Calvia
A new all weather, synthetic turf, floodlit pitch has opened in Calvia (south west Mallorca).
Calvia Town Hall will be working with a British founded organisation called Mallorca Ruby (www.mallorcarugby.com) which is scheduling various tournaments and bring visiting teams and their supporters into Calvia to play.
A total of 40 teams are already booked in to participate in the first two tournaments which will take place over the Easter holidays and the May Bank Holiday.
"STRICTLY MALLORCA"- Learn to Dance – Tango – Salsa – Ballroom
The demand in improving or learning to dance gave award winning professional dancers, Ian Pickles and Rebecca Andrews the idea of starting "Dancemallorca".
They have now teamed up with a British tour operator; Blueseaholidays (part of the Hays Travel Group) to provide a programme of 7 day, mid week or weekend dance lessons and entertainment from £349 per person to include return flights, accommodation (based on two people sharing a room) breakfast, transfers and a full dance schedule.
The holidays are located in the Calvia region of Mallorca based in the popular seaside resort of Palma Nova at the Hotel Voranova where Dancemallorca is completing its own purpose built ballroom with capacity for up to 200 people.
Further information: www.dancemallorca.com or www.blueseaholidays.co.uk/strictlymallorca
By Fomento del Turismo de Mallorca
www.newsmallorca.com