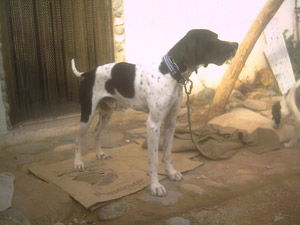 We are missing 2 dogs. 1 since Saturday morning, the 22/01/2011 a white and black Spanish Pointer, male (not neutered!), with 2 Collars (black, blue, with 2 reflective stripes),and the other since Friday night to Saturday the 28./29.01.2011 a small white and brown mixed breed dog, male (not neutered!), with blue collar, both between Cantoria and Almanzora.
Anyone who has seen him and / or found should call us at (+34) 680 49 68 99 or send an e-mail to: [email protected].
Thanks for any help!