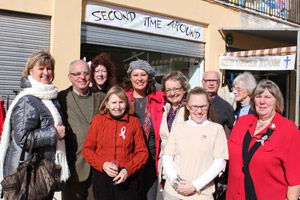 THE 'La Tienda' charity shop in Magaluf recently celebrated their first anniversary, and to mark the occasion gave the shop a facelift and a brand new name 'Second Time Around.' The shop is becoming an important part of the community where people can leave unwanted goods and clothes which are later re sold and the money used for good causes.
So many people in need are being helped in lots of ways.
Deputy Mayors Cristina de Leon and Manuel Grille from Calvia Town Hall cut the ribbon and the official opening was celebrated with Cava and a buffet.