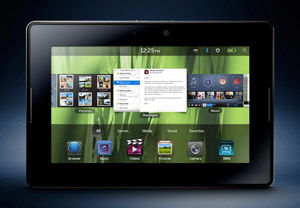 RIMs first foray into the growing tablet market is with the Blackberry Playbook, expected to be out early 2011. It runs an operating system similar to how the iPad does rather than the Android. From emails to movies, this tablet allows one to multi-task with ease with full computing power. "It also has an incredible gaming platform for publishers and the players," boasted RIM. It is touted as being an "amplified view of what's already on your BlackBerry."
The tablet allows one to siphon data off ones BlackBerry handset via Bluetooth tethering and display it on the PlayBook. RIM says that users can "use their tablet and smartphone interchangeably without worrying about syncing or duplicating data."
It is packed with a Cortex A9-based, dual core 1GHz CPU and 1GB of RAM; RIM claims it is the "fastest tablet ever." It boasts a 7-inch, 1024 x 600 capacitive multi-touch display and two cameras; a 3-megapixel on the front and a 5-megapixel on the back. It supports 1080p HD video recording and playback.
It has audio playback for MP3, AAC, WMA, as well as Wi-Fi and Bluetooth. Its connectors are a microHDMI port, a microUSB jack, and charging contacts.
It has an open flexible platform with support for WebKit/HTML-5, Adobe Flash Player 10.1, Adobe Mobile AIR, Adobe Reader, POSIX, OpenGL, and Java.
It measures 130mm x 193mm x 10mm and weighs approximately 400g.