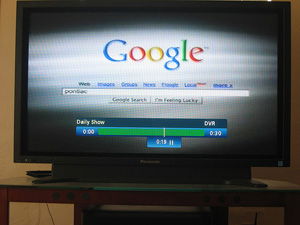 THE launch of Google TV is set for Sunday October 17. Via Google's home-invading new technology, Google TV will allow you to change channels with your phone, check email on your TV, access all the video the web has to offer, and more. Since Google TV is built on the Android OS, any Android phone can work as a remote control.
With this capability comes a multitude of possibilities including the possibility of speaking into the phone to find a show.
It will also be possible to play just about any video on the web with full compatibility, as well as check emails, read the news and play flash games.
Android will be open to developers, so as time goes on there will be an explosion of applications that can be used.
Another capability of the Google TV is its ability to watch one program while saving another.
Searching for any show on the TV guide will not only bring up upcoming episodes, but past ones as well as biographies and bibliographies of the cast, trivia and forthcoming appearances as well as memorable quotes and extra clips on YouTube.
There is also talk that there will be an integrated webcam which will enable video conferencing.
Better get that lounge tidy!