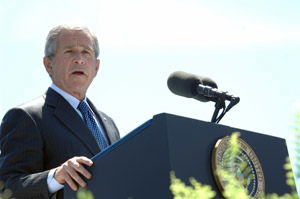 BY promising to match the pay of Sunnis belonging to the Awakening Council programme which maintains pro-government security, Al Qaeda is reputedly making a comeback in Iraq.
Use of the word 'comeback' is particularly interesting, bearing in mind that Al Qaeda existed in Iraq only after George W Bush's US-led invasion first opened the door to fundamentalist terrorism just seven years ago.
Crimes and punishment
ARMED robbery is a serious crime but does it deserve the 23-year sentence handed down by a London judge to a jewel thief while murderers receive lesser terms?
The 12-year sentence imposed in 2009 on the torturer and murderer of 17-year-old month 'Baby P' pales into insulting insignificance, demonstrating that justice retains a forelock-tugging respect towards ownership of valuable material objects.
Deadly weapon
FOLLOWING the failed grain harvest in Russia, rice yields are down by up to 20 per cent in Asia. Some blame global warming but whatever the cause, prices for yet another staple will rocket and more will go hungry. Developed countries prefer to fight other wars on other fronts, forgetting at their peril that starvation is the deadliest of all weapons of mass destruction.