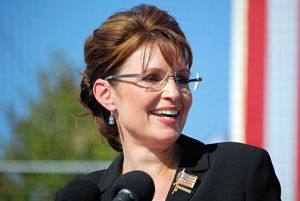 SARAH PALIN is accumulating funds for a war chest to fight the 2012 presidential election although the prospect is less appalling than it might at first appear. A ludicrous Palin in the Oval Office would so undermine American credibility that the rest of the world might eventually manage to muddle its way to peace once freed from Washington's well-meaning stranglehold on international politics.
The worst weapons
BARBARIC and archaic practices like stoning adulteresses are encompassed in Iranian laws which have no place in any society, regardless of the religion they claim to comply with.
Iran's nuclear programme produces suspicion and fear but the prospect of Teheran possessing sophisticated arms it will never deploy is less terrifying than the savagery of the primitive weapons it uses in God's name.
Photo Credit: World Economic Forum

Power-mad
PETER MANDELSON says in his memoirs that Tony Blair pronounced his doomed successor Gordon Brown to be "flawed, lacking perspective and having a paranoia about him."
The same description fits Blair and roughly 50 per cent of political leaders, dead or alive, because although absolute power supposedly corrupts absolutely, it can also unhinge most of those blessed – or cursed – with it.