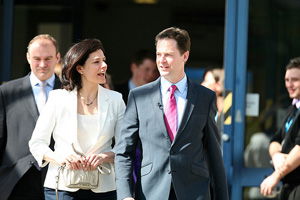 High flying lawyer, mother of 3 and wife of deputy leader Nick Clegg.
Professional Profile.
IT is no secret that Liberal Democrat leader and Deputy Prime Minister Nick Clegg's wife Miriam Gonzalez Durantez is Spanish, but the average Briton knows little about her professional accomplishments. She us currently a partner and head of Trade at multinational law firm DLA Piper, working out of their London office on Noble Street.
Gonzalez was born in Olmedo (Valladolid), a short drive north west of Madrid in 1968 to two teachers. As well as a teacher, her father Jose Antonio was Mayor of Olmedo and in 1977 was elected to Spanish Parliament as Senator for Valladolid. He died in a car crash in 1996. Her mother Mercedes was a chemistry and physics teacher, also in Olmedo.
She studied law at Valladolid University and after winning a postgraduate scholarship at College of Europe – the world's oldest institute specialising in European affairs –moved to Bruges in Belgium where she got her Masters in European Policy. The College of Europe has produced many government ministers, diplomats and members of parliaments over the years.
She met Nick Clegg in Brussels in the early 1990s while they both were students at the College of Europe. After Clegg won his first election as Euro MP in 1999 they married in Spain in September 2000.
After working in BT she passed the exam to become a civil servant at the European Commission. She started as EU negotiator to the WTO (World Trade Organisation) on telecoms and e-commerce. Then she moved as trade advisor to the cabinet of Chris Patten who was external relations commissioner. Gonzalez was responsible for relations with Middle East and Latin America, and then Middle East and US.
In 2006 she quit the civil service and became head of international trade practice for DLA Piper.
As if her life was not busy enough, in June this year the Board of Directors of renewable energy giant the Madrid based Acciona announced the appointment of Gonzalez as an advisor and Non-Executive Director.
Described as a liberal, this Roman Catholic mother of three, wife to the Deputy Leader and successful businesswoman, somehow manages to balance her three roles in a way that only a woman can, a Spanish woman at that.
Photo credit: Alex Folkes