Mum shares clever hack to help parents take the stress out of summer holiday expenses.
A BRITISH mum has shared a clever hack to help other parents avoid summer holiday stresses with a simple yet effective money-saving idea.
Tracy Barker took to Facebook to share her budgeting idea with fellow parents knowing the stresses mums and dads face when it comes to being able to afford activities during the school summer holidays.
Her handy tip, which has received over 20k likes on the social media platform, aims to help parents avoid feeling the "intense pressure to do lots of things over the summer holidays [on] a limited budget" noting that having "lots to pay out for can be really hard".
The mother-of-two sits down with her family to work out some of the things they would like to do in the holidays and calculates the estimated costs involved. Then using simple envelopes, writes down those costs and puts the envelopes in the cupboard.
Every spare bit of change goes into the envelopes and when one is full she seals it shut, knowing that "come summertime, I can just grab an envelope and know we can go regardless of what's in the bank."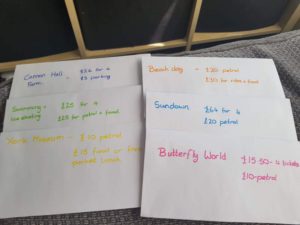 This handy hack will no doubt help many parents who have struggled to budget for family holidays/activities since the start of the pandemic.
Speaking to Euro Weekly News, the Yorkshire based mum revealed: "There is so much pressure put on parents these days and it can be hard to keep up. The guilt parents can feel as a result of having to say no due to finances can be soul-crushing.
"I think it's great if we can all share tips and tricks to help support each other," Tracy said.
This clever idea has been given the seal of approval by many people online.
One Facebook user wrote: "Brilliant idea. I always save up for the summer holidays so we can do something nice once a week, I think this would be a nice way to budget for this, although I'm sure I'd put the envelopes in a safe place!"
Another wrote: "Great idea. Also useful if the kids are lucky enough to have pocket money and they want to go somewhere. Something to save for and learn the value of things."
"Fantastic idea, I'm going on holiday in May so I'm going to choose places to visit in advance and do an envelope each for them, thank you for sharing," said another Facebook user.
Tracy's post has received 2.8k comments so far and the British mum told EWN: "I love that [this idea] has helped people.
"I've seen people use similar plans before, we just decided to use the envelopes to be able to seal them. [It also] lets the kids have the fun of picking the activity we do that day without the stress of being able to afford it."
If you have any clever parenting hacks, please get in contact with Euro Weekly News.
---
Thank you for taking the time to read this article, do remember to come back and check The Euro Weekly News website for all your up-to-date local and international news stories and remember, you can also follow us on Facebook and Instagram.