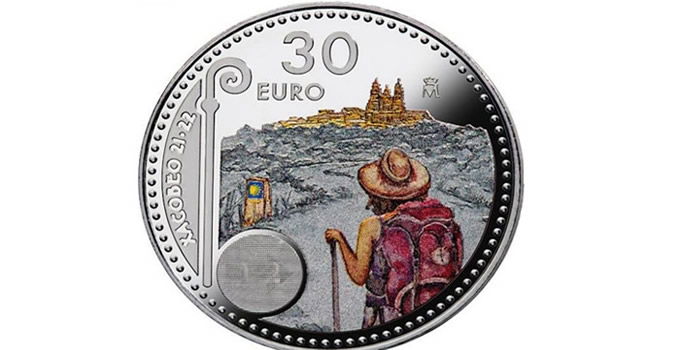 Bank of Spain produces a new €30 coin

Spain now has a brand new coin, one which is very different from the ones we are used to. One of this coin's main hallmarks resides in its colours. Gold, silver, and even purple can be seen in this new piece, which also stands out for its amount, €30 euros.
Numismatics fans will surely want to get hold of the latest coin made by the National Currency and Stamp Factory (FNMT). It was launched this Monday, November 22, for all those who want to expand their collections. The coin cannot be used as money to make purchases, since it is purely for collectors.
Homage is paid with this piece to one of the most emblematic places in the country – the Camino de Santiago (the Pilgrim's Way) – which is travelled every year by many people. Its route has become one of those things that must be done at least once in a lifetime, and is a part of the lists of purposes of many people, both Spanish and tourists. It is such an iconic destination that a commemoration of it in the form of money is like the icing on the cake.
This piece is a commemorative coin of the Xacobean Holy Year 21-22, stamped with a value of €30. Those interested can get it for their collection at any branch of the Bank of Spain by paying the amount of its face value.
On the coin is an image of a pilgrim, with his backpack, looking at the stunning cathedral of Santiago de Compostela after completing the Camino. The engraving also shows 'Xacobeo 21-22', the value of €30, Ceca's signature, and the famous scallop.
On the obverse of the coin are the Kings of Spain, Felipe VI, and Letizia, along with their names, and '€ spaña 2021', next to a fleur de lis. If the collector decides that they no longer want it then they can return it at any time to a branch of the Bank of Spain, where they will be refunded the €30 they paid for it, as reported by lasprovincias.es.
___________________________________________________________
Thank you for reading, and don't forget to check The Euro Weekly News for all your up-to-date local and international news stories, and remember, you can also follow us on Facebook and Instagram.