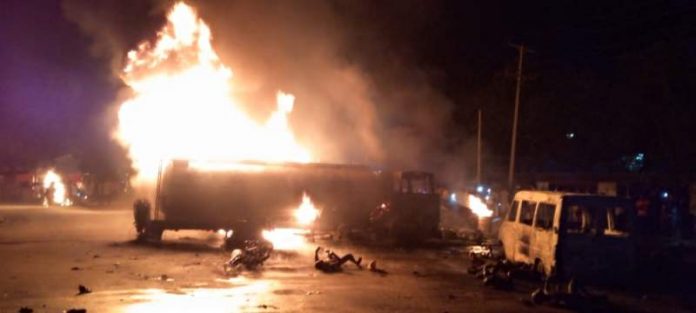 An oil tanker exploded last night near Sierra Leon's capital, killing at least 92 people with dozens more severely injured.
An oil tanker exploded last night, November 5, near Sierra Leon's capital, killing at least 92 people with dozens more severely injured after huge crowds gathered to collect leaking fuel.
Officials say that a bus crashed into the tanker in Wellington, a suburb just east of Freetown.
The Connaught Hospital mortuary has reported 92 dead that had been brought in by this morning, November 6. Approximately 30 people have suffered severe burns and are not expected to survive, a staff member has said.
People lay naked as the fire that followed the explosion had burnt off their clothes, nurses attended to them today.
Video footage of the aftermath showed a huge fireball burning in the sky last night and survivors with severe burns can be heard screaming in pain.
Remains of charred victims lay scattered around the scene awaiting to be transferred to mortuaries.
A very tragic day in D Republic. Bai Bureh RD is engulfed in fire;scores of people painfully burnt to death at PMB Jxn,Wellington.Regrettably,hospitals nearby R rejecting patients Bcz they're nt adequately stocked with supplies: My prayers remain with D families of d bereaved. pic.twitter.com/p6kjr5JBoX

— Edson Kamara ~🇸🇱🇸🇱~ (@KamaraEdson) November 6, 2021



President Julius Maada Bio, who was in Glasgows at the COP26 climate change summit yesterday, deplored the "horrendous loss of life."
He Tweeted: "My profound sympathies with families who have lost loved ones and those who have been maimed as a result."
Vice President Mohamed Juldeh Jalloh visited two hospitals last night and said Sierra Leone's National Disaster Management Agency and others would "work tirelessly" following the disaster.
He posted on his Facebook page: "We are all deeply saddened by this national tragedy, and it is indeed a difficult time for our country."
---
Thank you for taking the time to read this article, do remember to come back and check The Euro Weekly News website for all your up-to-date local and international news stories and remember, you can also follow us on Facebook and Instagram.