A Facebook group that dedicates itself to counting the number of chips served in Wetherspoons has gone viral.
A Facebook group that dedicates itself to counting and recording the number of chips served with meals at Wetherspoons has gone viral.
The group, called Wetherspoons paltry chip count, has over 40,000 members across the UK with members posting images of their dinners complete with measurements of chip lengths and the chip count served with meals.
Some diners have shared how they have been served as little as 10 chips with meals such as mixed grills, steaks and paninis, with some even being served processed cheese slices on top.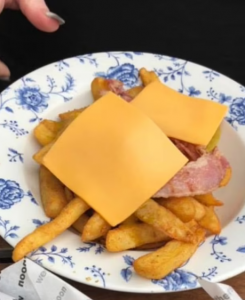 Group admins even do a weekly round-up of the number of chips members have been served.
Member Thomas William wrote: "76 meals with a chip count and 16 extra portions of chips were posted this week. These account for a whopping 2550 chips which were served to you lovely contributors."
One dedicated chip expert even brought scales with him to weigh his portion – discovering his chips weighed 189g, approximately 7.27g per chip.
He wrote: "Partner wouldn't let me take scales in yesterday, but he's at work late, so managed to sneak them into Sir Henry Tate Chorley."
"26 chips (fairly average) at a total weight of 189g, approximately 7.27g per chip"
Another said they'd been waiting years to discuss their measly chip portions writing: "Been waiting almost 7 years for this group. 22nd December 2014, I remember it well. 14 chips. Haven't been to a Wetherspoons since. Probably best I don't talk about the ham and cheese panini."
Wetherspoons spokesman Eddie Gershon said: "A few years back Wetherspoon carpets were all the rage on Facebook, so it's probably no surprise that someone has now started a chip account."
"All pubs should serve the same weight of chips, but the number of chips might vary depending on the size of chip."
---
Thank you for taking the time to read this article, do remember to come back and check The Euro Weekly News website for all your up-to-date local and international news stories and remember, you can also follow us on Facebook and Instagram.