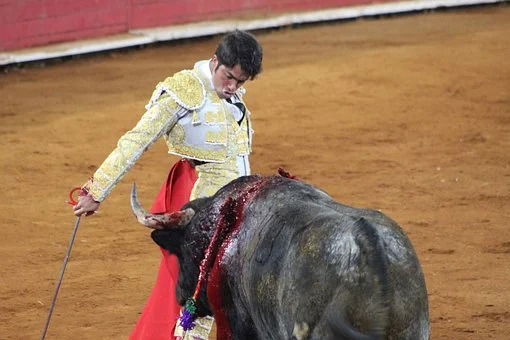 Under 16s could be banned from bullfights in Spain. Thousands of bulls die each year in what is classed by many as an essential part of Spanish culture. Opposition against bullfighting is growing though.
Spain could see bullfighting phased out under plans that are being supported by left-wing politicians in the country. New rules could see children under 16 years old banned from the traditional sport.
The future of bullfighting will be discussed next week by delegates of the fortieth Federal Congress in Valencia. Various plans are being considered. Proposals include stopping promoting bullfighting as part of Spanish culture and stopping money for the sport. Under 16s could see themselves banned from the bullring or the sport could reportedly even be stopped completely in the future.
Many people now see bullfighting as outdated. This is especially true for people living in cities rather than in rural areas of Spain.
Left-wing politicians seem to be favouring phasing out bullfighting even though the sport brings in thousands of fans each year.
The Spanish government has announced that anyone who turns 18 next year will receive a 400 euro voucher to use on cultural activities. Bullfighting businesses were outraged when they were left out of the voucher scheme.
The vouchers will not be able to be used for bullfighting tickets. The aim of the vouchers is to help Spain recover from the pandemic. The scheme is expected to cost around 190 million euros.
The culture ministry said: "not everything that our legislation regards as culture will come under this cultural support".
---
Thank you for taking the time to read this article, do remember to come back and check The Euro Weekly News website for all your up-to-date local and international news stories and remember, you can also follow us on Facebook and Instagram.