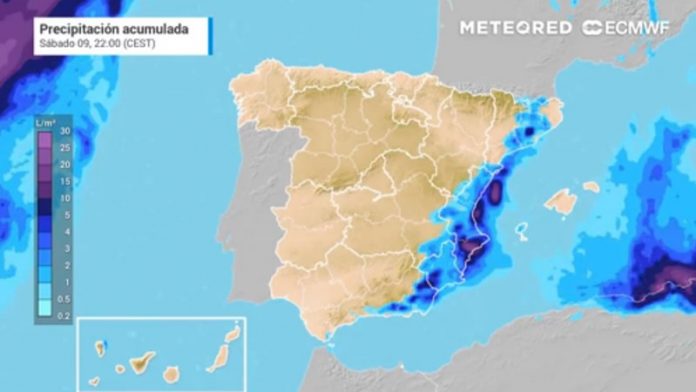 Mixed bag of weather for Spain over the Pilar holiday

Spain is to see a mixed bag of weather during the Pilar public holiday that started today, Friday, October 8. That is according to Meteored, the meteorological channel, who explain that the anticyclone which arrived on Thursday 7 will bring stability and higher temperatures to some regions, while others will see winds and rainfall.
Friday 8 and Saturday 9, will see clear skies with occasional high clouds or with high clouds. In Mediterranean coastal regions, these clouds will be abundant due to the maritime winds, and there may be weak rainfall. The Valencian Community could experience heavy rainfall on Saturday.
The Cantabrian area, and the north of the Canary archipelago will also experience cloudy skies. In the interior of Galicia, the Castilian-La Mancha plateau, and in the Strait, banks of fog will appear.
Come Sunday 10, not a lot will change apparently, with the possibility of rain continuing in the Mediterranean and Balearic regions. Temperatures will drop during the daytime, although in the Guadalquivir valley the thermometers will continue to reach 30°C.
Winds will predominate mainly from the north and east, possibly reaching great intensity in the Strait, and in the north of Galicia. While in the Canary Islands, the trade winds will continue.
The weather outlook for Monday 11 and Tuesday 12
By Monday 11, the Valencian Community, Murcia, and the eastern part of Andalucia, could see cloudy skies, along with weak showers. The rest of the country should experience clearer skies, except in the Strait, and the north of the Canary Islands, where the sky will remain partially cloudy. Temperatures will rise in the northern half.
Following the anticyclonic situation of the previous days, Tuesday 12 should bring clear throughout the country, except in the Strait, Melilla, and the north of the Canary Islands, where there will be clouds.
In the north of Tenerife and Gran Canaria, weak rains could be registered. Temperatures will rise, with maximums of 31ºC in Sevilla, 30ºC in Cordoba, and 29ºC in Huelva, Orense, and Granada, as reported by 20minutos.es.
___________________________________________________________
Thank you for reading, and don't forget to check The Euro Weekly News for all your up-to-date local and international news stories.