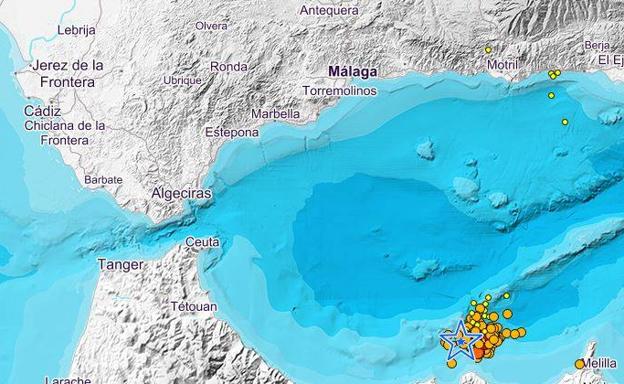 Seven new earthquakes were detected on Sunday in the Alboran Sea, off the coast of Malaga, Spain.
The National Geographic Institute (IGN) reported a new series of seismic movements with an epicentre in the south of the Alboran Sea after more than ten earthquakes were detected the day before, Saturday, August 28.
The first and largest of them registered a magnitude of 4.9 on the Richter scale.
According to data published by IGN, after the initial series of earthquakes were detected on Saturday, the most powerful being 4.9 degrees intensity (according to the revised calculation at 11.20 hours GMT+1), there followed a dozen aftershocks- which were of lesser magnitude.
That same day, several more movements of between 2.5 and 2.8 degrees of intensity were recorded, almost a dozen in fact, up until 7:05 p.m. that night.
The National Geographic Institute also reported seven new earthquakes in the southern area of ​​the Alboran Sea between 2.23 and 14.08 hours (Spanish time), all of them with a magnitude between 2.5 and 2.9 degrees on the Richter scale except for the most powerful one which reached an intensity of 3.2 points, that tremor was detected at 9.30 am.
These seismic movements are added to the series of earthquakes detected in recent months in the southern area of ​​the Alboran Sea, which between April 17 and August 12 registered about 1,500 earthquakes of varying intensity, some of which were felt in Melilla, Almería, Granada or Malaga and are likely to continue throughout the year.
Read more:
Earthquake with an epicentre in the Alboran Sea felt in Malaga
The earthquakes were felt in several provinces of Andalucia, Spain, including Torremolinos, Malaga, Nerja, Velez-Malaga, Torrox, Fuengirola and Calahonda.
---
Thank you for taking the time to read this article, please remember to come back and check The Euro Weekly News website for all your up-to-date local and international news stories.