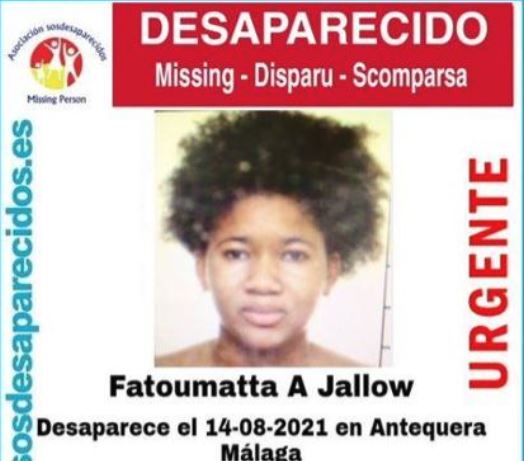 Search for missing young woman in Malaga's Antequera. A missing persons alert has been issued for a young woman who went missing earlier in August.
Officers from the National Police in Spain are actively searching for a young woman who went missing on August 14. She is of African origin and went missing from the town of Antequera in Malaga. She has now been missing for over two weeks and the search is on for Fatoumatta A Jallow.
Police sources were able to confirm to Europa Press that the missing person's report was filed at the police station in Antequera. The report was filed by the person who is in charge of the reception centre where Fatoumatta had been staying. The alert was raised and an investigation began last week and it is still open.
The SOSDesaparecidos Association published a missing persons alert on Friday. They explained that the missing woman Fatoumatta A Jallow, is 1.80 metres tall, has a slim build and has black curly hair. She also has black eyes.
Anyone with any information should contact the authorities.
In other Spanish news, new archaeology campaign begins in Almeria's Mojacar. The archaeology campaign will take place at la Vieja, and 30 archaeologists, restorers and students will take part. There will be plenty events open to the public too.
The excavation campaign for Mojacar's la Vieja has begun. Like other years the campaign involves both the local council and the Valparaiso Foundation, overseen by experts from the University of Granada and the MemoLab cultural archaeology laboratory.
This year's campaign is shorter than normal and will only run until September 10. Lecturer at the University of Granada in the Department of Medieval History, Sciences and Historiographic Techniques, Jose Maria Civantos, has explained that the campaign this year will be more focused on restoring the site in a bid to both preserve and protect it for the public.
---
Thank you for reading, and don't forget to check The Euro Weekly News for all your up-to-date local and international news stories.