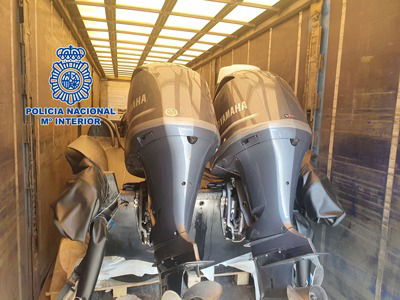 Drug Trafficking Speedboat Arrest In Almeria's Adra.
National Police have arrested a man in Adra and seized a speedboat intended for drug trafficking.
Almeria National Police have seized a speedboat being transported to the Almeria port of Adra. They also arrested the driver of the lorry that was transporting the speedboat. The man has been accused of a smuggling offence.
Investigators from Almeria's National Police station had become aware of the expected transfer of a speedboat. The speedboat was expected to be transferred to a port in Almeria and then used for drug trafficking purposes via the sea.
The lorry was discovered in the fish market of Adra during an operation which was coordinated between GRECO Galicia and the Provincial Police Station of Almeria. The trailer of the lorry was being used in order to transport the speedboat.
Officers were able to seize the speedboat which boasted two Yamaha engines of a staggering 300 HP each. The boat was about 10 metres long and inside it they discovered 70 containers which each contained 25 litres of petrol.
The arrested man is a resident of Algeciras who also has a police record for drug trafficking. The man had intended to use the boat and take it out to sea from the Adra port.
The man was arrested and then handed over to the Juzgado de Instrucción number two in Berja and he has been accused of a smuggling offence.
In other Spanish news, an illegal party in Alicante with over 100 people was busted over the weekend and the organisers face staggering fines.
The illegal party was taking place at a rented chalet in Alicante's Muchamiel. Officers from both the Guardia Civil of Sant Joan and Alicante's Local Police busted the party which had over 100 people in attendance. People were without masks and the party was inside a rented house on Calle Rosinets de Monnegre, in the Alicante district of Muchamiel.
According to Alicante City Council all the partygoers were identified and sanctioned due to the fact that they were not complying with anti-Covid health and safety measures. The property's owner was located and the contract for the rental was terminated.