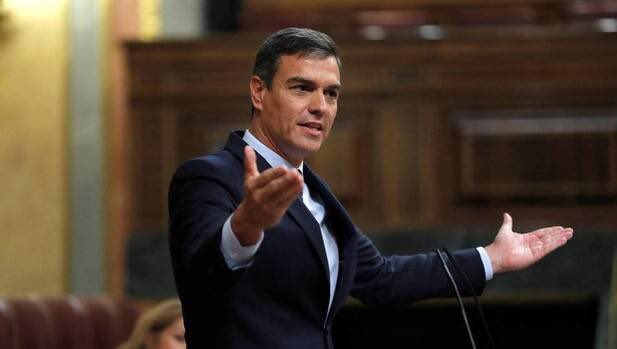 Prime Minister Pedro Sanchez today defended proposed pardons for Catalan separatists convicted in 2017 with a passionate speech in parliament.
The mooted pardons are highly unpopular across the political spectrum, including with Sanchez's own party, the PSOE.
Sanchez said, "Despite the terrible blow of the pandemic, we are in a position to begin a process of modernization, also political. We have to be generous and responsible and make an effort. Let's not look for revenge, let's look for solutions. Let's change threats for proposals with pragmatism, honesty and common sense. Let's make a new us. That new us will be our greatest success.
"We have lived too long in sterile positions, we cannot continue like this, we have to take steps to advance, with serenity, with a sense of justice, seeking peace and coexistence, above the smallness of partisan interests and electoral interests. There will be no greater benefit than leaving behind a scenario of crisis and confrontation that, so many years later, has left only pain, and poverty and stagnation," he said on June 7.
"I ask that we have courage and a sense of exemplarity, in the genuine sense of what exemplarity represents, because it will not be the maximalist positions that will regain what we lost. We risk the future, not just the present. We cannot fail. Let's bet on harmony and reunion," he added.
According to a poll conducted by Spanish news outlet OKDIARIO, 71 percent of Spaniards are against the pardons, with even far-left voters not being able to muster convincing support for the idea.
Supporters of the opposition PP and Vox are most strongly against the pardon with their voters being 92.7 percent and 94.3 percent against respectively.
But PSOE voters are also in strong opposition with 67.8 percent against pardons. Just one in five PSOE voters say they would support a decision to release the separatists. Supporters of coalition partners Podemos supporters are 52.7 percent against.
The PP said it was against granting the pardons as the 12 convicted officials show no remorse and would continue to agitate for Catalonia's independence if released.
"Those convicted have reiterated on numerous occasions that they would do it again, that they would once again subvert the constitutional order," the leader of the PP Pablo Casado said on May 28.
A decision on the pardons is not likely before June 13 as it could be damaging to Prime Minister Pedro Sanchez's favoured candidate in the Andalucian primaries, the current mayor of Sevilla, Josep Espadas.
Twelve Catalan separatist leaders were convicted for various crimes in relation to the independence bid in 2017. Nine of them received jail terms of between nine and 13 years in October 2019.
---
The Euro Weekly News is running a campaign to help reunite Brits in Spain with their family and friends by capping the costs of PCR tests for travel. Please help us urge the government to cap costs at http://www.euroweeklynews.com/2021/04/16/ewn-champions-the-rights-of-brits-in-spain-to-see-loved-ones-again/
Thank you for reading, and don't forget to check The Euro Weekly News for all your up-to-date local and international news stories.