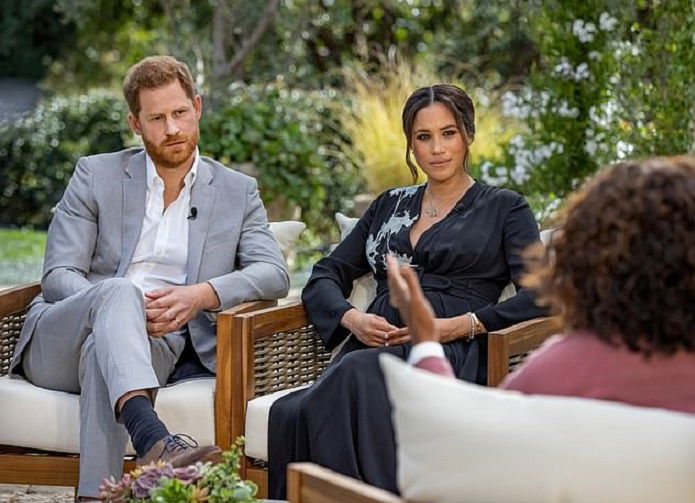 Prince Harry And Meghan's Daughter Lilibet Will Not Instantly Receive A Royal Title.
Lilibet will NOT automatically assume a title and be a princess just like Archie isn't a prince – a move Meghan and Harry incorrectly told Oprah was because the 'rules were changed' to downgrade them.
On her birth, Lilibet 'Lili' Diana Mountbatten-Windsor became eighth in line to the throne. However, despite being Prince Harry's daughter it does mean she will instantly receive a title. Lilibet however WILL be entitled to become a Princess – an 'HRH' – following the death of The Queen and the natural succession of Prince Charles.
Lilibet Diana Mountbatten-Windsor as yet does not have an official title just like her two-year-old brother Archie. But they will both be entitled to HRH styles when Charles becomes king because they will have moved up the line of succession to become the children of a son of a monarch.
Meghan had previously made a bombshell suggestion that Archie was banned from being a prince during the CBS exclusive Oprah Winfrey interview.
Harry and Meghan have gone on parental leave after they announced the birth of their baby daughter Lilibet yesterday afternoon. The 7lbs 11oz baby – whose middle name is Diana – was born on Friday evening, British time.
It is understood the Queen was informed by Prince Harry that her great-grandchild would be named in her honour, ahead of their official announcement which was made on their official website.
---
The Euro Weekly News is running a campaign to help reunite Brits in Spain with their family and friends by capping the costs of PCR tests for travel. Please help us urge the government to cap costs at http://www.euroweeklynews.com/2021/04/16/ewn-champions-the-rights-of-brits-in-spain-to-see-loved-ones-again/
Thank you for reading this article, and remember, don't forget to check The Euro Weekly News website for all your up-to-date local and international news stories.