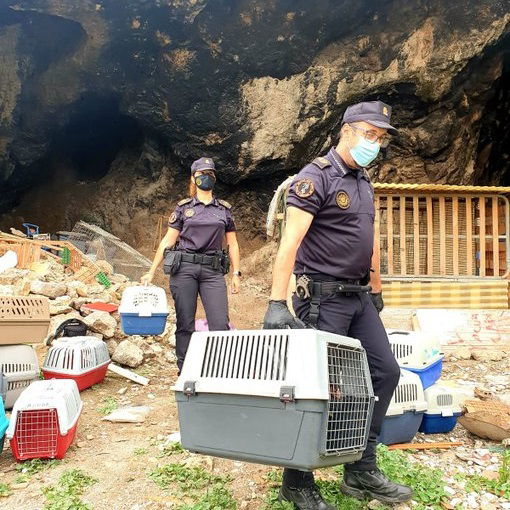 Fighting fit FOLLOWING an anonymous tip-off, officers from Orihuela's Policia force discovered a clandestine breeding centre for fighting cocks hidden in a cave in the Sierra above Calle Miguel Hernandez.  Roughly 30 cocks were located and removed with the assistance of a vet, and police are now seeking those responsible. 
Stop talking THE Guardia Civil removed a female Spanish passenger from an Alicante-bound aircraft that had to return to Palma airport when she refused to stop talking on her mobile despite flight attendants' repeated requests.  She now faces prosecution from the European Aviation Safety Agency for ignoring the crew's requests.
Hell's bells A TWO-TON bronze bell vanished from the San Jaime chapel in Cañada del Fenollar, a small municipality near Alicante City.  Police investigators concluded that the thief or thieves climbed the side of the chapel building to take the bell which was probably stolen for its value as scrap.
Wrong way ELCHE'S Policia Local intercepted a vehicle driving along the A-70's joining lane but then handed over the case to the Guardia Civil since the incident had occurred on a motorway.  Police sources later revealed that the driver and the occupants of the vehicle all tested positive for alcohol.
No slip-ups ALICANTE city hall's Environment department is lopping and removing the fruit from 8,000 palm trees in the city's principal streets and pedestrian areas. This will avert potential accidents caused by fallen branches and prevent injuries to members of the public who could slip on dates littering the pavements. 
Court order THE region's Upper Court of Justice (TSJ) ordered Santa Pola town hall to pay €1.9 million plus costs to the concessionary contracted to build the municipality's still-unfinished covered pool.  The company abandoned the project in 2009 but should be paid for the work carried out, the TSJ ruled. 
Beach plans ELCHE city hall announced that, if the Health authorities permit, it  hopes to dispense with the need to divide its beaches into sectors this summer and impose limits to capacity.
Animal shelter TORREVIEJA town hall will spend €700,000 on a new animal shelter with a veterinary service, offices, laundry and staff changing room as well as a play area for the dogs.  
Keeping watch TWENTY-ONE CCTV cameras will be installed at Crevillent's sports installations to forestall or, if necessary, follow up on theft, vandalism and other anti-social incidents, the town hall's Sports department announced.
Mild tremor ON Friday last week, Spain's National Geography Institute registered a 1.9 magnitude earth tremor that was 60 kilometres east-south-east off the Santa Pola coast at a depth of 15 kilometres.