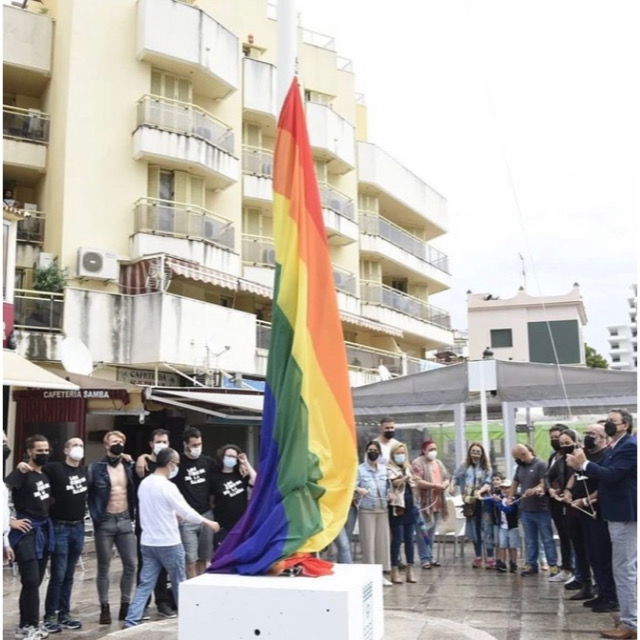 THE MAYOR of Torremolinos, José Ortiz, the Councilor for Equality and Diversity, Carmen García, and members of the Government Team and the Municipal Corporation, have participated this Saturday, June 5, along with representatives of LGBTQIA + community of the municipality, in the raising of the rainbow flag, which from this day will have a permanent place in the Plaza de La Nogalera.
As reported by Malaga Hoy, the mayor has stated that "it is the best place since we know what La Nogalera means for the community and for tourism in this sector, which together with Pasaje Begoña make up two great icons of our city." "And we do it here because, together with Chueca, this plaza constitutes two of the most important locations for diversity in Spain and in Europe that projects us to the whole world," Ortiz explained in a statement.
Subsequently, the mayor and the councillor for Equality and Diversity have accompanied the Diversport association and its president, Liván Soto, in the painting of hands with the colours of the LGBTQIA + flag on a wall on the athletics tracks of the Municipal Sports Council of Torremolinos with the word 'Diversity', which is added to the mural that last March was dedicated to the word 'Equality'.
In this way, Carmen García has valued this act within the Pride 'Amor Diverso' program and has highlighted the work of Diversport and all its members within the social fabric of the city. "We are very happy that the athletics tracks have this message because it is important for visibility. It is the obligation of our City Council to integrate all its citizens and we are very happy to take another step".