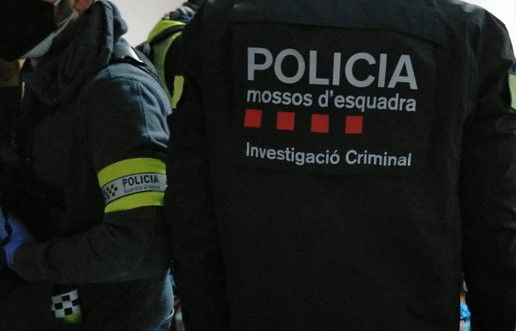 MOSSOS d'ESQUADRA Detain A Man Carrying A Gun in the street

The Mossos d'Esquadra, on Friday night (June 4), had to deal with a situation in Barberà del Vallès, Barcelona, where they detained a man who was observed by neighbours to be carrying a pistol, and then started walking towards the officers with the pistol pointed at them.
A spokesman for Mossos d'Esquadra told 20minutos.es that 112 emergency services had received a call at around 1.20am in the morning from a concerned neighbour in the Ronda Santa María, in Barberà del Vallès, reporting a man shouting in the street, causing a problem, and seen to be brandishing what appeared to be a gun in his hand.
Video footage recorded by a neighbour shows an officer pointing his pistol at the suspect, who appears to be staggering towards him, while the officer tries to persuade the man to lower his gun, and when the man eventually lowers his weapon, a group of ten officers pounced on the suspect to mobilise him, to the sound of applause from neighbours.
A source reported that the man allegedly suffered from a mental problem, and it was made clear that at no point did he attempt to carry out any act of violence against anybody, and in fact, his weapon was later found to be a compressed-air gun, with the incident ending with the man being arrested for the crime of making a threat.
___________________________________________________________
The Euro Weekly News is running a campaign to help reunite Brits in Spain with their family and friends by capping the costs of PCR tests for travel. Please help us urge the government to cap costs at http://www.euroweeklynews.com/2021/04/16/ewn-champions-the-rights-of-brits-in-spain-to-see-loved-ones-again/
Thank you for reading, and don't forget to check The Euro Weekly News for all your up-to-date local and international news stories.